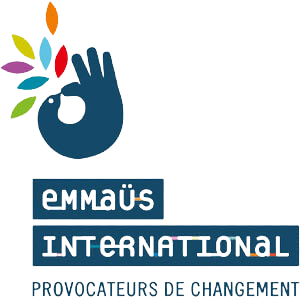 Created in 1971 by Abbé Pierre, Emmaus International is a solidarity-based movement, acting against poverty and exclusion. It brings together 425 associations in 41 countries, spread over 4 continents.
All have the same values of welcoming, solidarity, openness, respect and sharing in very diverse social, economic and political contexts. All share the same goal: acting against the causes of poverty and being vehicles for social transformation through allowing the poorest to become actors in their own lives.
Emmaus organizations the world over engage in activities and political lobbying within the framework of three struggles for access to fundamental rights: an ethical and solidarity economy, social and environmental justice, and peace, freedom of movement and of residence for universal citizenship.
As Abbé Pierre's sole legatee, Emmaus International is responsible for protecting and keeping the memory of Abbé Pierre alive, along with the struggles he tirelessly waged throughout his life.
website: https://www.emmaus-international.org/en/who-are-we.html
PUP in the website of Emmaus: https://www.emmaus-international.org/en/who-are-we/emmaus-around-the-world/asia/bangladesh/pollee-unnyon-prokolpo-p-u-p.html